Open Call
Silvana S. Foundation Commission Award Open Call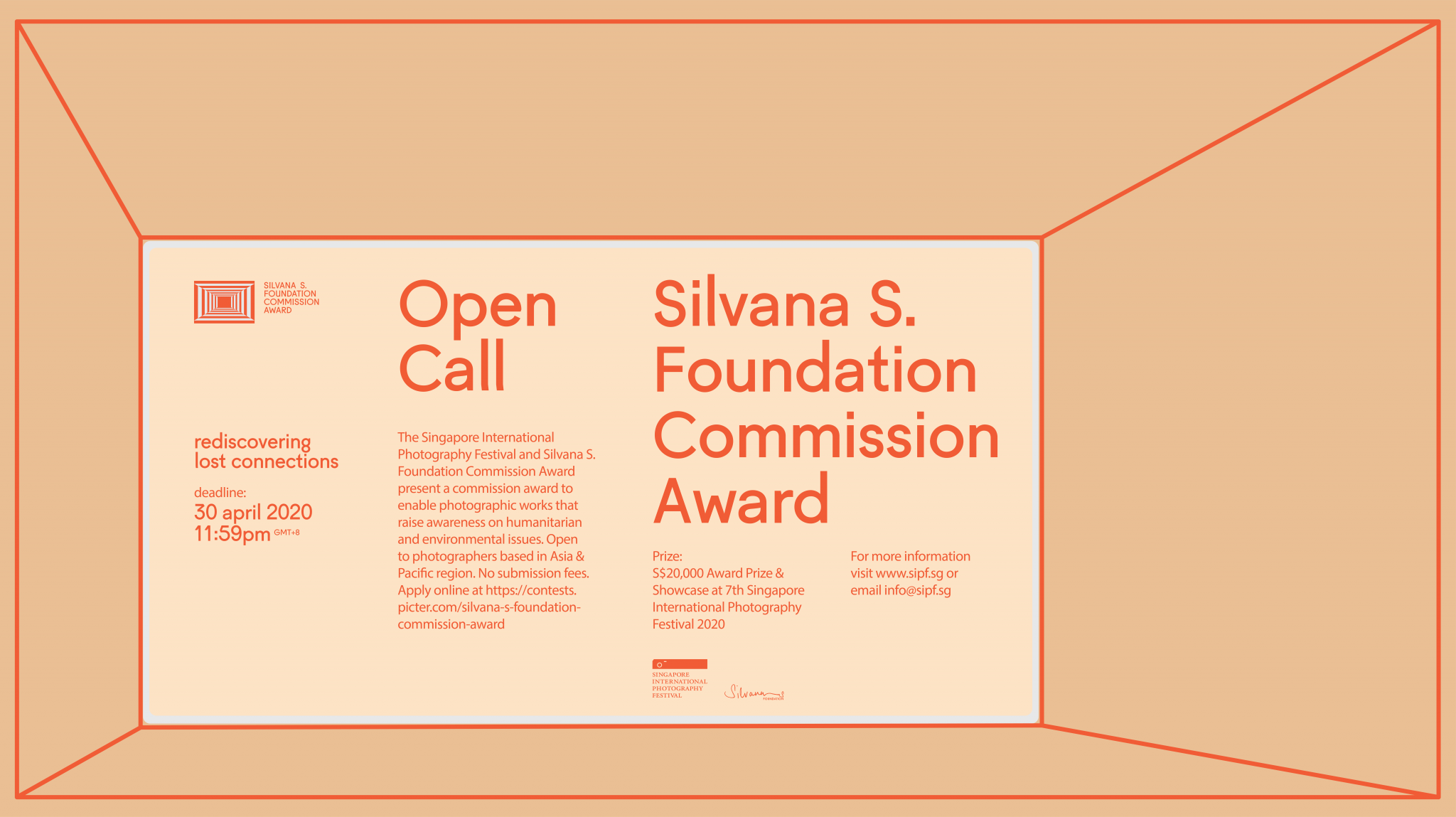 The Silvana S. Foundation Commission Award is a brand-new commission award that aims to empower photographers based in Asia Pacific focusing on environmental, wildlife preservation, and humanitarian concerns.
The theme for the inaugural edition is Rediscovering Lost Connections. Despite our modern world becoming more interconnected than ever before, many have lost touch with the environment. The theme encompasses the need for us to reconnect to our immediate surroundings — to the environment, people and all living creatures that co-exist on earth. The commission award hopes to bring about an awareness of the issues that affect us and our future generations.
One final winner will be awarded SGD$20,000 to create new works which will be exhibited as part of the 7th edition of Singapore International Photography Festival (SIPF), beginning in October 2020. Having a viewership of close to 200,000 visitors in its last edition, the SIPF platform will confer international exposure t­­­­­o the commissioned artist and further expand their work to bring awareness to environmental and humanitarian issues.
The new commissioned works will be part of a fundraising managed by an appointed gallerist– Valerie Cheah of Jada Art Gallery. Profits from the sales of works will benefit both the artist and selected charities and wildlife causes in Asia that will be chosen by Silvana S. Foundation.
All photographers in the Asia Pacific region are welcomed to submit their proposals and portfolios based on the theme. There is no submission fee.
The Open Call begins on 1 January 2020 and ends on 30 April 2020.
To register and for more information: https://contests.picter.com/silvana-s-foundation-commission-award
Download Press Release (Bahasa)
About the Organisers
The award is a partnership between Singapore International Photography Festival (SIPF), the largest biennial international photo festival held in Southeast Asia, and the Silvana S. Foundation, a non-profit organization founded by the late Silvana Regina Sutanto which aims to raise awareness for humanitarian and environmental issues through photography.
About the Jury
Piyatat Hemmatat is the founder of RMA Institute (2009 – 2019), a creative space exhibiting emerging, regional and international photography as well as other media. It eventually evolved into PhotoBangkok in 2015, Bangkok's first home grown International Photography Festival. He has a Bachelor's degree in Fine Art from City & Guild London Art School (1999 – 2001), followed by a Master's degree in visual art from Chelsea College of Art & Design (2002). Piyatat's multimedia explorations in Photography, Sculpting and Video Installation encompass a variety of narratives and have been continually published and exhibited both locally and internationally. He is recognised for his experimental works, combining ideas of nature, science, technology, mystery and mythologies.
Katya Guerrero is the founder of Luzviminda: Archive of Philippine Photography, a platform to introduce Philippine photography to a wider audience. This is an offshoot of her ongoing work at Pioneer Studios where she manages the photography, digitization and fine art printing department. A daughter of a photographer-publisher, she grew up in a rich environment that enabled her to intuitively understand the photographic processes from conception to print. Since the 1990s, she has consistently worked on creative initiatives to support and promote Philippine art and culture.
Ihiro Hayami is the founder and director of T3 PHOTO FESTIVAL (Tokyo International Photography Festival). He's the former chief editor of Japanese Photography Magazine, "PHaT PHOTO" (2012-2014), and was the gallery director of RINGCUBE (Ginza). His selected curatorial exhibitions include, Alejandro Chaskielberg's "Otsuchi Future Memories" (2016), and Alex Prager's "WEEK-END" (2010). Over the past few years, he has served as juror, lecturer, and reviewer at various international photo festivals and photography Universities.
Seok Jae-hyun is a photographer, educator, curator and the director of ArtSpace LUMOS, an exhibition space and photobook library. He has experience working as a photographer for the New York Times, International Herald Tribune and Korean GEO. In 2006, Seok organized the Daegu Photo Biennale, and since then has curated many international exhibitions. He has also been involved in theDali International Photo Exhibition in China since 2011, Foto Istanbul and PhotoBrussel Festival, and has participated in many international photo festivals as a portfolio reviewer.
James Tan is one of the top printmakers in the Asia pacific region endorsed by many major brands like ILFORD, Eizo, Canon, Leica, Soraa, as their ambassador and educator. He was awarded Fellowship in 2009 by UK's Master Photographers Association (MPA) and trained in photography judging in MPA's HQ. He has been in the judging panels of several international photography competitions, such as MPA's Annual Awards and WPPI's 16×20 Competition. Tan is serving in the Professional Photographers Association of Singapore as Honorary Secretary, and Deputy Ambassador and Chair of Qualifications for the MPA's Far East Chapter.
Event Information
Event Start
01 Jan 2020
Event End
30 Apr 2020
Entry Fee
Free. Submit your entry now!