Adisak Chocksongsaeng
Being There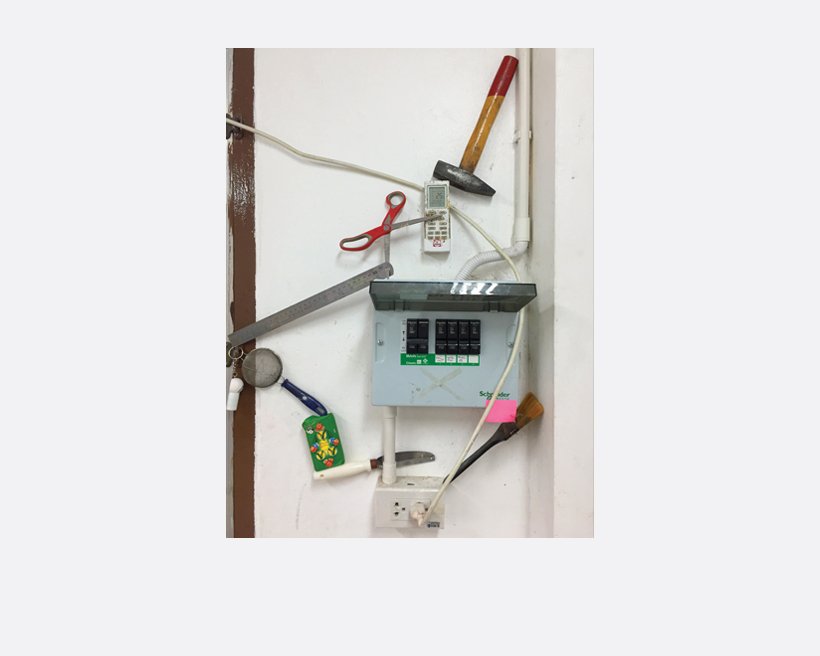 "Coz life is ours…" is the lyrics of 'Life is ours' by Bodyslam band that everyone including me has been singing along.  We all want to destine our life. I think I have been designing my own life since I myself can choose my study, my job, my food, my bed etc.  
However, when I look at my routine I realize that my life is not different from others. I have to follow some certain rules and norms to be normal which sometimes make me feel tired. Then, I am wondering whether we can live our lives like in that song.
As a result, I experiment on myself, object, space and time to be in abnormal condition.
Whenever I spend a long or short time in a place, I will rearrange objects within that place as a temporary sculpture and take a photo of it before return those objects to original positions.
The experimentation shows the unusual condition. It is possible that we can live under some conditions and observe various dimensions in one life but we cannot get rid of the regulated condition that makes us be normal. In addition, I still have to live with others through this normal condition. The unusual condition that I create is a period of time in my life. It is like I complain or swear when I get bored or I deeply sigh for my ordinary life.

About the Artist
Adisak Chocksongsaeng is based in Bangkok, Thailand. He graduated with a degree in Fine Arts from King Mongkut's Institute of Technology Ladkrabang in 2013. His first solo exhibition, Being There, was exhibited at 'Speedy Grandma' in 2017. Chocksongsaeng is currently working in research and development at Alexander Lamont Co.
IN OTHER IMAGE, WHEN WORDS FAIL
International Portfolio Showcase
National Library Plaza
05 Oct—30 Oct
Free admission