Programmes
Professional
Workshops
Masterclass: Perspectives in Our Contemporary World (Stefen Chow)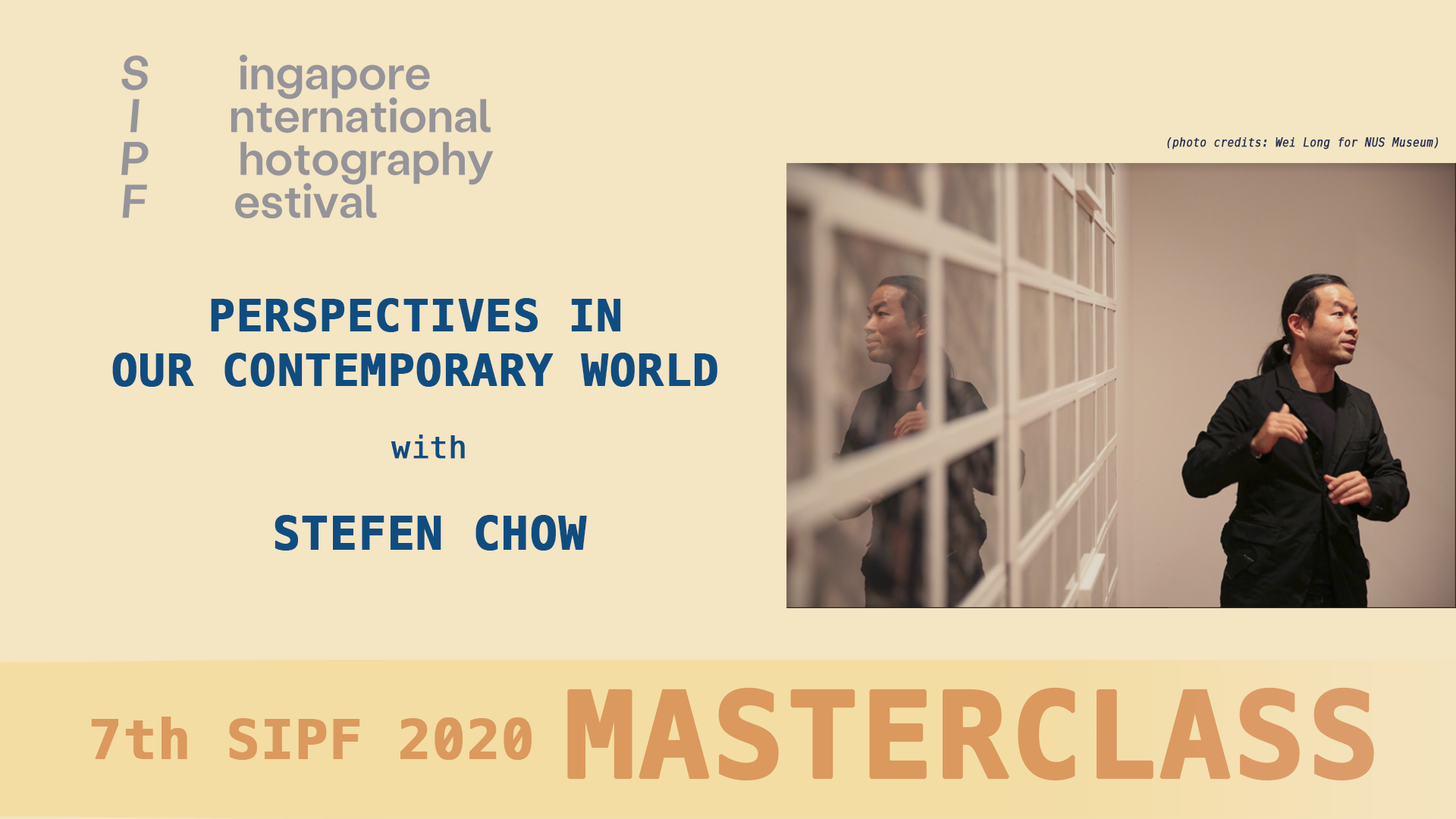 In this weekend masterclass, Perspectives in Our Contemporary World will provide practical learning and review sessions for both emerging and practising photographer. Participants will work on crafting their personal voice and career.
Leading the class, Stefen Chow will share his extensive industry experience and practices. These will springboard to further discussion on current trends and challenges in the photography world. The masterclass is kept small to facilitate lecture-discussions, small-group conversations and peer presentations. These activities will gather participants to refresh their perspectives, and to gain new insights. Every participant will also receive a one-to-one consultation with Stefen. The consultation will address question s about the participants' portfolio and the industry.
Between the class-lectures, there is a gap day set aside for participants to complete a day project. This is to allow participants to calibrate their perspectives and attempt new approaches, to begin a new discovery, overcome fear or creative block, embark on a new creation, and ultimately to pursue professional growth.
---
This workshop is limited to 12 participants.
Participants are required to present a valid ID card.
Prerequisite:
• No prior experience or a professional career record is required. However, we expect passion and commitment over the 3 days and to complete all assignments punctually.
• An open and inquisitive mind is necessary to bring in meaningful experience and learning points for your and fellow participants.
• A camera for the assignment. (Smartphones, DSLRs, mirrorless cameras, Instant cameras, medium format cameras, large format cameras, etc) You need to be able to photograph the assignment on Saturday and present them in a physical form on Sunday.
Important Information for 7th SIPF 2020 Masterclass
STEFEN CHOW BIO
Stefen is part of artist duo Chow and Lin. The crux of Chow and Lin's practice lies in their methodology of statistical, mathematical and computational techniques to address global issues. Their work has been exhibited internationally in museums and biennales across 3 continents, including St Petersburg's Hermitage Museum, Beijing's CAFA Museum and Chicago's Museum of Contemporary photography. One of their long-term projects, The Poverty Line, won the Rencontres LUMA Book Dummy Award. He is also an accomplished commercial photographer and film director. His work has garnered awards from the Tokyo Type Director's Club, D&AD Awards, World Press Photo, National Geographic, Photographie de la Paris and more.
Stefen is currently based in Beijing with his wife and two young children.
Stefen was a jury member to the British Journal of Photography's 'OpenWalls Arles', National Arts Council 'Noise Award' , Nikon Japan Photography Awards, and National Geographic Live and NTU 'LIGHT & LIFE'. He served as the Photography Head of Jury for the Crowbar Awards and the Photography Director of The Other Hundred, Hong Kong.
Event Information
Event Start
21 Nov 2020
Event End
23 Nov 2020
Opening Hours
21 November 2020, 9am – 6pm
23 November 2020, 9am – 6pm
Entry Fee
$400/pax